Yvonne Montero had an accident last Monday, November 28but it was a few days later when he decided to share a photo that he alerted his fans on social media because he showed up with an eye patch and without giving further details, he only indicated that he has "fatal oversight".
Shortly thereafter, the actress returned to the same social network to announce that received a corneal burn due to the use of pupilsbut she was already out of danger and decided to share her experience so that other people would not go through the same thing as her.
However, the former resident of La Casa de los Famosos not only received messages of well wishes and expressions of affection, but was also heavily criticized as being "conceited" and lacking self-respect.
In this regard, the singer also gave interviews to the media, including the program Venga la Alegría, where responded to negative comments assuring that the accident he had was not due to a lack of self-love or insecurity, but rather an oversight that anyone can experience.
"I read comments that (he had an accident because of): "Of course, because you're vain, because you don't love yourself, because you're insecure', he mentioned.
But he directly assured:No!, this is the taste of my love"; because he explained that if he uses contact lenses, it is for cosmetic purposes, and this is another accessory."Just like I get my nails done, I can take them off and I'm still me".
During the same meeting with the Mexican press, Montero recalled how she realized that something was wrong with one of her eyes, which caused her to be rushed to the doctor.
"the cornea has already burned completely and I was immediately taken to the emergency room. (He felt) A burning sensation, a pain he had never felt before. Yearning, of course, say: 'Oh my god, how can something so absurd be fatal', he said.
After the diagnosis, the specialists carried out some procedures to make sure that everything was in order, for which they only recommended not to use lenses in order to give rest to this area of ​​the face.
"There I was immediately given a super-deep wash, they said complete rest, no pupils at the moment, no makeup, nothing rests. Yesterday I still saw blurry with this eye, today I see quite clearly," he added.
Also, through his social media, he has demanded respect for what he does, as this is not the first time he has been criticized for his style of clothing, the accessories he uses, or even the strand of gray hair he shows off in his long hair. hair, because She claims that she does it because it makes her happy. And she said she sometimes deletes and blocks people who insist on attacking her.
Author: Rocio Garcia
Source: La Opinion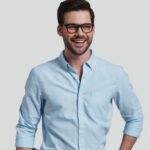 Jason Root is a distinguished author and journalist in the entertainment industry. He is currently a writer at 24 news breaker where he covers the latest in entertainment news and offers unique perspectives on the current events in the industry. With a keen sense of humor and a passion for storytelling, Jason's writing provides readers with a fresh and engaging take on the world of entertainment.