The weather in Moscow never ceases to amaze. Extreme Christmas frosts gave way to a thaw. Due to the temperature difference, the streets of the city were covered with a crust of ice. And ice, as you know, causes serious injuries – bruises, sprains and fractures.
Traumatologist-orthopedist, candidate of medical sciences Konstantin Ternovoy told REN TVhow to avoid injuries in icy conditions, what kind of shoes to wear and what to do if you get hurt if you can't immediately go to the doctor.
How to prevent falls and avoid injury
According to Ternovoy, the best way to prevent a fall is to look down at your feet and put your phone away. He explained that while walking on a slippery road, the hands should be free to balance.
"Today, a woman fell on the crosswalk right in front of me. She was walking on the ice and looking at her phone. The first recommendation is to look at your feet, especially if you are going downhill. Hands should remain free to balance, and knees should be slightly preloaded", – said the doctor.
When falling, many advise to group up, squeeze the muscles and try to fall sideways. However, Ternovoy is convinced that even a professional athlete will not have time to react so quickly.
"If you start to fall, you will not have time to group. Even athletes do not have time to do this. I treated the master of sports in martial arts. He says that he only managed to see his legs, and the next thing he remembers is how he hit his head. older people.No one will have time to group. The only thing that can be done is prevention." he says.
The Ministry of Emergency Situations advised pedestrians to be extremely careful: to cross the road only in specially designated places and not to come close to the roadway. Elderly people should stay at home if possible.
Candidate of Medical Sciences, traumatologist Nikolai Gnelitsa toldthat in winter, patients most often turn to doctors with injuries to their arms and legs. As a rule, these are fractures of the radius bones, ankles or damage to the knee joints.
"When falling, do not try to put your hands forward – this is traumatic. Ideally, group up and do not tilt your head back to avoid a biting blow to the surface," the expert advises.
What shoes should be worn in icy conditions
Ternovoy stressed that the guarantee of safety when walking in icy conditions is comfortable shoes with non-slip soles.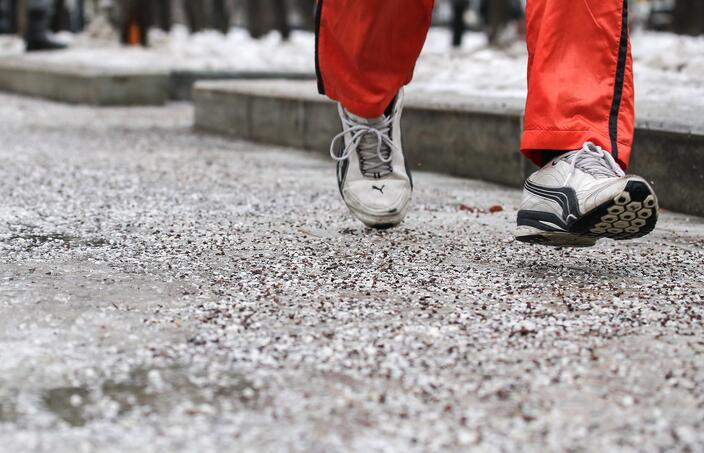 Photo: © Anton Novoderezhkin/TASS
"The main thing is the right shoes. Winter tires should be winter tires. You can't walk in flat office shoes on ice," – said the traumatologist.
Also many advise wear boots or shoes with microporous or soft soles, with a thick tread. Leather or plastic in icy conditions will be too slippery. There are other simple ways to make shoes more stable. Adhesive plaster or electrical tape is glued to the heel, and the sole is rubbed with sandpaper before going out. This increases grip on ice.
Experts recommend paying attention to gait. Step on the ground should the entire sole, and slightly relax the legs. Hurrying somewhere in ice is contraindicated. The risk of falling increases exponentially if you are in a hurry somewhere. You need to step on bare ice slowly, go in small steps, transferring weight from foot to foot in the style of penguins.
First aid for injury
The most common injuries from falling into icy conditions are bruises of varying severity and damage to the ligaments. Ternovoy told what to do with a bruise if it is not possible to immediately consult a doctor.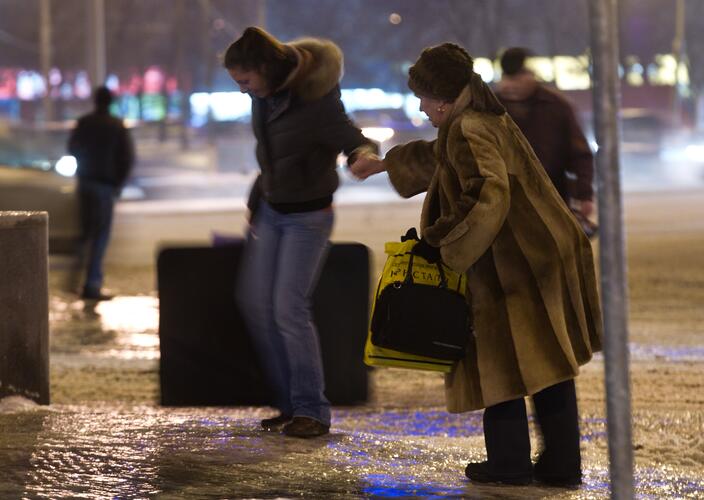 Photo: © RIA Novosti / Mikhail Fomichev
"In case of a bruise on the first day, you need to apply cold. We take a pack of dumplings, wrap them in a towel and hold for 15 minutes every hour. On the second day, the cold is no longer effective. And we use anti-inflammatory ointments based on ibuprofen, voltaren. Everything that relieves swelling and inflammation" , the expert advises.
Experts warn: ice is especially dangerous for children and the elderly, because they are more easily injured and more difficult to recover. If you fall on the ice and hit, do not rush to get up abruptly. Even if the injury is severe, a person may be in a state of shock and not feel sharp pain right away. After a fall, you should first raise your head and try to move your arms and legs. Only then can you carefully climb.
In case of a bruise or any other injury, it is important to contact the emergency room as soon as possible – this will help you recover faster and save you from many problems.
Source: Ren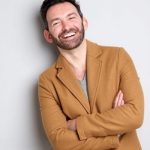 Ray Bly is an accomplished journalist in the field of Automobile. He currently works as a writer at 24 news breaker. With a deep understanding of the Automotive industry and a talent for uncovering the latest developments, Ray's writing provides readers with insightful and informative coverage of the latest news and trends in the field.